Posted: November, 9, 2021 | Categories: Events
At the southernmost tip of the High Line Canal near Littleton, Solstice™ residents have been enjoying the beautiful landscapes and waterscapes created by the changing seasons. When the color palette of Colorado autumn invokes your inner artist, here are four crafts to help you scratch that itch.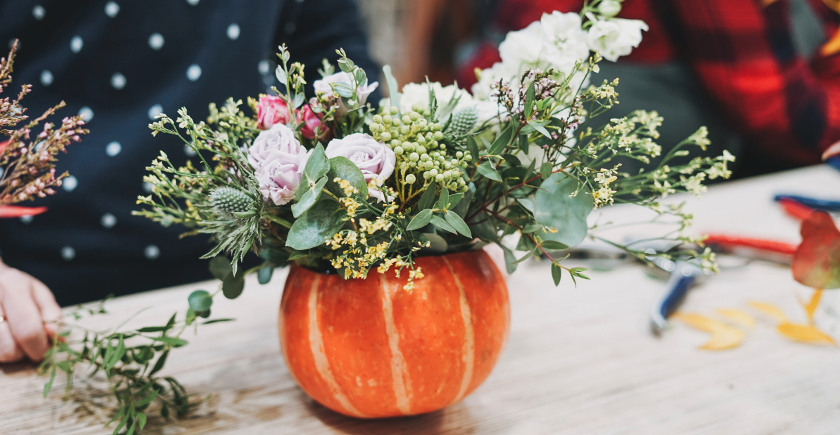 Flower Vases Made from Gourds
Make these pleasant pumpkins even prettier with a few simple steps. Start by cutting off the top of the gourd — higher for smaller arrangements or lower to fit a larger number of flowers. If your gourd is round and won't sit still, slice a sliver from the bottom to create a flat edge before cleanly scooping out the inside of the pumpkins. When arranging flowers, remember the expert florist advice that both proportion and balance matter: The arrangement should be 1.5-2x the size of the container's width or height. A large flower should be balanced either with another large flower or a grouping of three smaller flowers. Place your new bouquets around the great room or use them as lovely table decorations!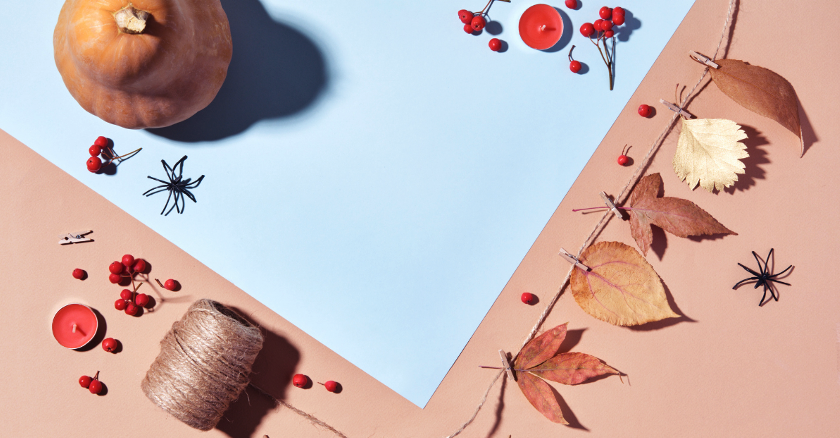 Decorative Dried Leaf Garlands
These gorgeous garlands take a little prep work, but we promise it's worth it! On a walk along the High Line Canal, gather leaves in a variety of shapes, colors, and sizes. For newly-fallen leaves that aren't fully dry, pop into the laundry room and iron them between pieces of copy paper on medium heat. Use mini clothespins to evenly space the leaves along a length of jute twine and customize as much as you like! You can glue dried or faux berries onto the clothespins for a pop of color or use a metallic paint pen to trace the veins of the leaves for a gilded look. Hang the garland on your deck, across your fireplace, or on your front door to make a serious impression on your friends and neighbors.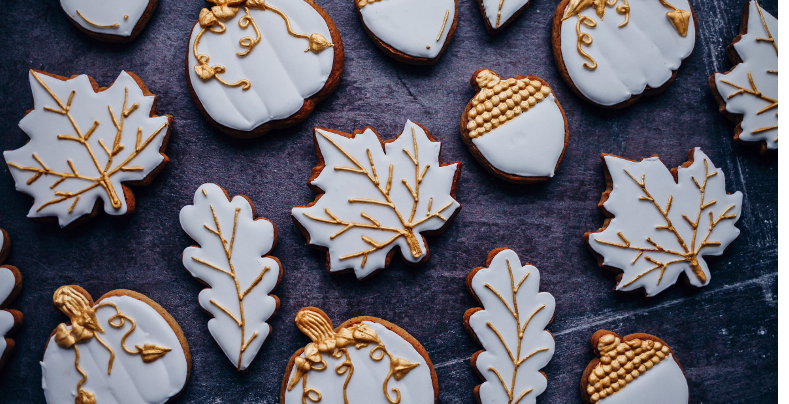 White & Gold Fall Cookie Decorating
The key to successful cookie decorating is the right consistency of royal icing — and time. Clear off your kitchen island so you can let the icing dry in between layers. In the bowl of your stand mixer, whip the whites of 3 eggs with 3 teaspoons of vanilla before gradually adding 4 cups of confectioners' sugar on low speed until the mixture is shiny. Turn the mixer to high and beat into stiff, glossy peaks (about 5-7 minutes). This is the base consistency. Put about a third of your icing into a piping bag and outline your cookie shapes.
While the outlines dry, use a spray bottle to lightly spray the remaining icing in your bowl with water and mix for a slightly thinned consistency. Transfer to a piping bag and flood thinned icing into the outlines and allow to dry for 6-8 hours or overnight. With the remainder of the thicker base consistency, pipe whatever decorations you wish onto your cookies — curling vines, veins of leaves, or the tiny textured dots on acorn caps. Let dry for another 2 hours. Finally, use a decorating brush to paint edible gold paint over the details. Let dry at least 10 minutes before serving your masterpieces!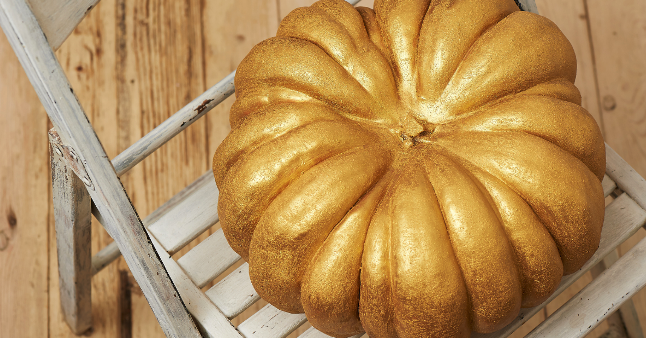 Stylish Monochrome Painted Pumpkins
Although spray paint provides the quickest path to a painted pumpkin, it can also be tricky to manage a controlled spray that doesn't dapple your deck with drips. Instead, find one or more colors of acrylic paint (in addition to the required shades of white and black). For uniform results, paint the pumpkin completely white first. Once it's dry, sponge on the color of your choice, making sure to get deep into each crevice — work in thin layers of paint to create a natural look. Finally, mix two or three drops of black paint in with your base color and use that slightly darker shade in the grooves and around the stem to provide natural-looking shading.
The principles of balance and beauty — which are key to the artistic process — are the basis of our home collections at Solstice. From our parks to the pool to the surrounding grandeur of the Front Range, Solstice embodies aesthetic Colorado elegance. We want to help you find your own artistic inspiration — visit us today and we'll explore floorplans that are perfect for you!
---
---
Tags:
---
---
Leave a reply