Posted: August, 14, 2020 | Categories: Events
Perfectly situated near Littleton, Colorado, the area surrounding The Solstice™ community is brimming with local family-friendly activities to keep you busy all summer long. Just steps from home, you'll find lively fishing areas at scenic Chatfield Lake. We've rounded up the top five reasons to gather your gear and cast your fishing rod into this sparkling reservoir.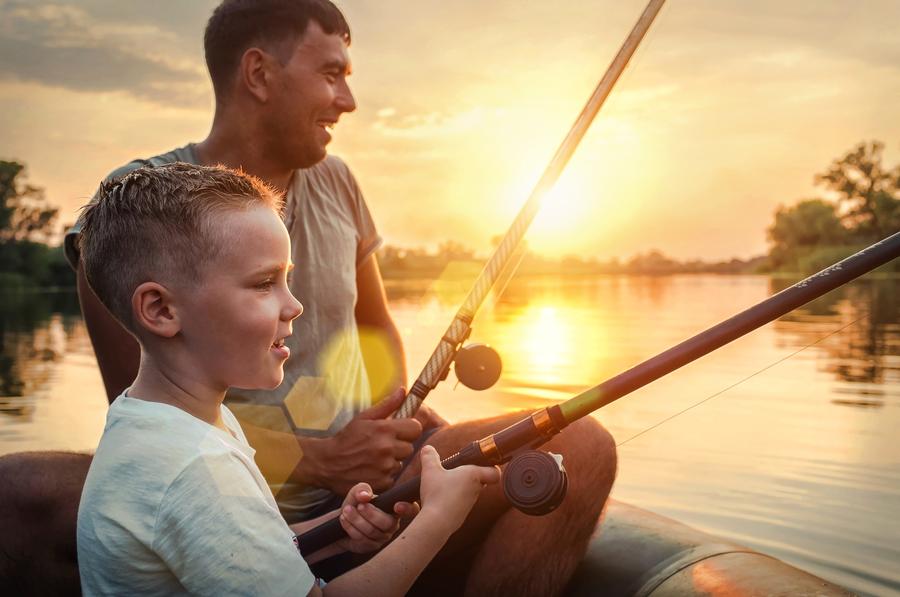 The Beautiful Scenery
Nestled at the base of the foothills, Chatfield State Park is blanketed with local flowers and foliage from end-to-end. The sprawling lake can be seen from the nearby highway as you travel to and from home year-round. While you're perched on the water preparing to fish, you'll notice insects and birds surveying the area as well. Fellow fishers, boaters, kayakers, and boarders are sprinkled across the lake while those on the swim beach can be spotted enjoying the fresh air and sunshine. During fishing season, live the Solstice lifestyle by catching your dinner and making a fresh meal catch-of-the-day style.
The Family-Friendly Location
With a lake so close to home, your neighbors will be tempted to spend the day fishing with you. Whether your group has your own boat or you choose to rent one, share your beloved hobby with your favorite people — be sure to pack snacks and plenty of hydrating beverages to keep you fueled for your day on the lake. Family restrooms and changing facilities are just a few feet from the shore, where rental life jackets and water sports gear are available for your convenience and safety. A go-to for community locals and a must-do for tourists and guests, Chatfield Lake is home to families who favor Colorado's active lifestyle.
The Affordability
Part of Colorado's appeal is being able to feel worlds away without purchasing a pricey plane ticket. At Chatfield Lake, experience what out-of-towners come to enjoy — world-class fishing conditions and a variety of aquatic life to catch. Fortunately, nearby access to this perfect combination is affordable for the whole family. Before you head out, purchase your fishing license at local retailers, over the phone, or online. To enter Chatfield State Park, you'll need to purchase a pass, with annual and daily passes available at various price points depending on your needs. Choose the combination that's right for you and your family — you can expect to pay up to $10 for daily park passes and up to $35 for annual fishing licenses.
The Diverse Recreational Activities
For the non-fishers in your family, plenty of thrilling activities are available both on and off the lake. Stand-up paddle boarding and kayaking rentals are available, while swimming and sunbathing at the beach can be enjoyed all day long. While you fish, your animal lovers can view and ride horses at the Chatfield Stables and picnic like pros. After fishing, walk your pups along the trails or let them run free at the off-leash dog park. Enjoy year-round camping at Chatfield State Park — where you can cook your freshly-caught fish over a safe fire before snoozing under the stars.
The Fish, Of Course
Over two square miles, Chatfield Lake is flowing with local favorites like rainbow trout. Those who prefer an elusive gem can search for walleye, which is fin-tastic for an elegant meal at home. Smallmouth bass is the perfect choice for fishermen who enjoy an easy catch and tasty reward you can savor at your campsite. Plan your visit and stay updated about the lake's fishing conditions and hot spots by checking the fishing report from Colorado Parks and Wildlife. CPW also offers an app to help you become a fishing aficionado.
Gorgeous scenery, affordable prices, and fabulous fish await you at Chatfield Lake. Invite your friends, family, and neighbors for a fun-filled day of swimming and fishing for a variety of species in ideal conditions. At the end of your day, retreat to your stunning Solstice home to enjoy the benefits of your fishy finds. When you live just minutes away, you'll love spending your weekends at this gorgeous reservoir!
---
---
Tags:
---
By Solstice
---
Leave a reply